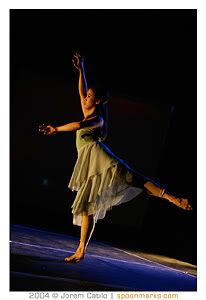 Here's a shot of my sister during her solo in the recently concluded live rock-dance show,
Abandon
. As posted in apester's blog, you really got to love live shows. It's a surge of pure talent. I envy these kids for being able to do this. As I sat there watching, I couldn't help but flashback myself into memories of the stage and tech booths.
Anyway, enough about me. Congratulations to the entire team who put up this wonderful production. A standing ovation to the excellent bands (
Up Dharma Down
& High Beam). Hats off to
Apester
for pulling this all together. And most importantly, bravo to my sistah. We are just so proud of you.
Bravo. Bravo.
For more pics, click
here
.