I spent a self-declared long weekend in Ilocos Norte, to visit my grandmother for her 89th birthday. It was a tiring vacation, but fulfilling nonetheless. Beyond the bad back from the overnight bus trip, the lack of sleep and the resulting horrendous eyebags.
Day One
:
Woke up at around 7 AM, as the bus was nearing the terminal in Laoag City where my parents were already waiting. After a 30-minute drive to our town, I was being welcomed by my grandmother... and by a hearty breakfast of longganisa, malunggay stew and scrambled eggs. A nap was then in order, after greeting all the relatives who were up and about the house (including my very wide-eyed god-daughter). Mom later woke me up saying that we would go to Laoag and visit my cousins' newly put up store, where they sell accessories, bags embellished with shells and native trinkets, batik clothes and inabel purses. They get their goods from all over the Philippines. And when I thought that I wouldn't spend anything this weekend... well, I was wrong.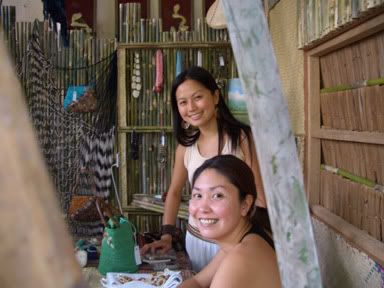 Ate Daffo & Ate Kristine at their store, Isturya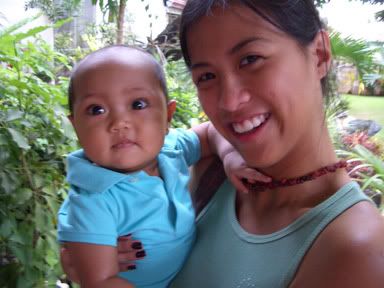 Little Zoe and Me (note her grasp on the necklace)
After the shopping, we then had another 30-minute (or so) drive to the town of Batac. Ah yes, the empanada. I didn't have lunch so I ended up gulfing down one special empanada and 4 jumbo hotdogs with a bottle of coke. Having had our fill, we drove back home where we were then met by a long table of food already set for dinner. I chose not to pig out a second time (even if the yummy Ilocano dish Igado was being served).
As everyone relaxed, with the cool night breeze swimming along around us, my uncle brought out a Margarita mix and a bottle of Tequila. Another uncle then turned on the videoke machine.
A dangerous combination
. The titas (including my mom) then proceeded to have a Hopelessly Devoted singing contest. Note that all but two of us (the two being my cousins) actually
CAN
sing. Imagine hearing that Olivia Newton John song 4 times. The german shepard sure didn't find it very entertaining, as he intermittently got up to howl (mostly at my mom who was already perched up a monoblock chair). We sing our hearts out until 1 AM.
Day Two:
Wake up early. It was a Pagudpud day. We took three cars. A pick-up holding all the food we were to cook there, a sedan with all the dads and titos, and a van with all us girls and mommies. My uncle got us a hut perched up a little hill in the middle of the cove. Zoe, my god-daughter, was in this cute little ruffly bathing suit. She amazingly was not scared of the water, and loved how the sand felt in between her fingers. We dug a small hole by the shore and sat her there - so adorable! Lunch was
overwhelming
. Lobsters, shrimps, fish, pork barbeque, salad and fresh coconuts (as in sip via a straw stuck into the coconut fresh). The rest of the day was spent savoring the water and winds. There was a bit of drizzle, but well, who cares.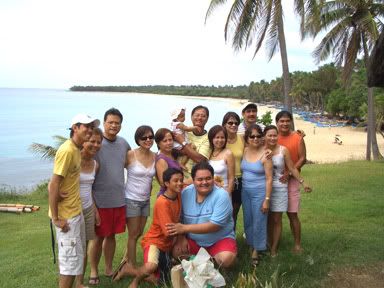 One big happy Foz family (and that's not even all of us)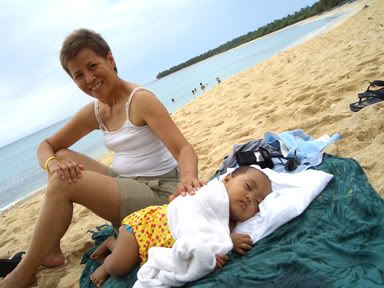 Zoe with her grandma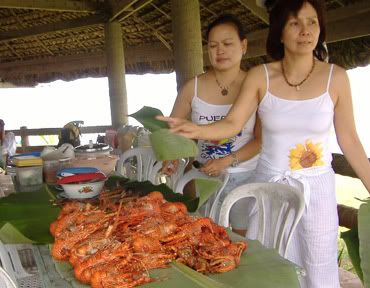 Lobster & shrimp galore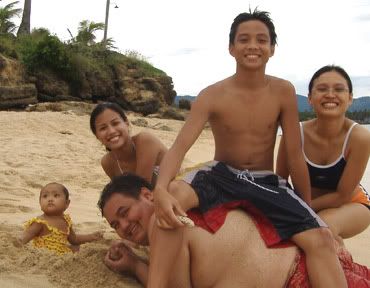 Zoe, me, Kuya TJ, Marty (on top) & Ate Trish (Zoe's mom)
Back home, we above-18 cousins then had a quick dinner because we had to make another trip to Laoag. We were to watch my cousin's boyfriend's gig at a little pub in the city. The trip there was hilarious: the car broke down and we had to call our dads for help. And then arrived the cavalry. Not one, not two, but
all five
dads/titos drove over to the rescue. We felt like a bunch of sixteen year olds on the way to the prom. Anyway, we make our way to the city in a different car, drive by a liquor store to buy Tequila Rose (because the bar only served beer) and finally arrive at the bar. Let's just say we really felt like our age - we were irate and just picked on other people's fashion sense to entertain ourselves. I could feel the smoke seep into my lungs to
burn
all my bronchioles. I hated it. By 11 PM I was already outside, trying to get as much fresh air as possible (and refused to go back in). My older cousin was complaining about the volume of the music. She also steps out. She also complains about the air (okay, so it wasn't just me) - that even if she was a smoker, she just couldn't take it. She also complains that she could barely see, reels over and throws up. Man, we're old, I say. We laugh at ourselves on the way home.
Day Three:
Had to muster all my might to go to church at
7:30
in freakin' the morning. I try my best not to fall asleep during the mass, which dragged on until 9 AM. I wonder if the length of the homily was directly proportioned to the length of the church (our town's church is the longest in the Philippnes). My mom says that it's generally okay for the folk to have long masses, as it's the only time where they could dress up and "go out". It's their thing, she says.
After, me and my mom did an ukay-ukay in my grandma's closet. I pick up three bags and a skirt. Hehe. And after a quick lunch and a bit of freshening up, we say goodbye to everyone (with a lot of tight hugging).
Ten hours later, I was back home. And that ended the weekend. Well, it was good while it lasted.